Car Wraps & Graphics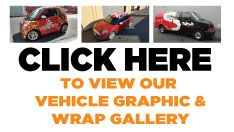 We know that when you spend your advertising dollar you want it to stretch as far as it can - nothing gets your message out there more clearly or more quickly than company vehicle wraps. The flexibility and mobility of vehicle wraps & graphics provides for a cost-effective way to increase & strengthen your exposure.
Expand your advertising without increasing your budget! Place ads on cars, trucks, buses, trailers, & just about anything else you want to wrap. The effectiveness of a wrap has unparalleled marketing impact.
With an onsite facility we can produce & install quality, high-resolution vehicle wraps, vinyl graphics & magnetics for virtually any vehicle.
Have a tight budget? No problem, we can create custom designs to get the most impact out of your advertising dollar. Contact us for a free estimate to see what we can do about your next wrap project.